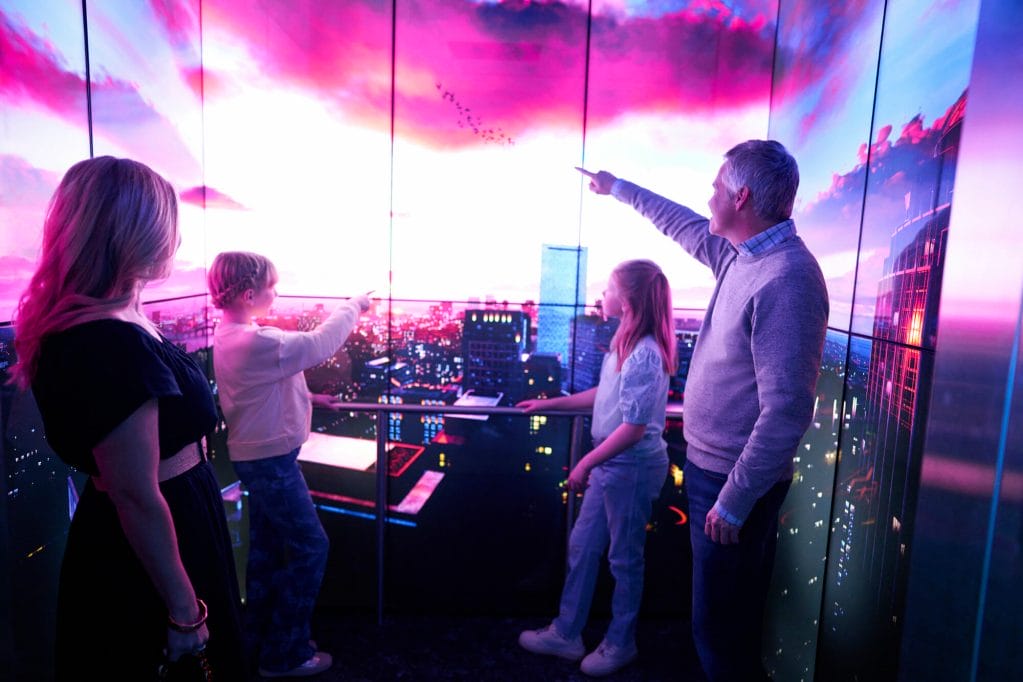 View Boston Redefines City Exploration with Breakthrough Innovative Technology
The immersive experience atop the Prudential Center brings the city to life with state of the art sensory technology
Boston, MA (July 19, 2023) – View Boston, the latest marvel atop Boston's renowned Prudential Center, offers an unparalleled experience that fuses breathtaking panoramic views with state-of-the-art technology. Combining innovation with tradition, this reimagined space ushers in a new era of observation, boasting a multitude of captivating tech elements such as projection mapping, LED touchscreens, and a ViewPrint itinerary with data-collecting microsites that transport visitors into a world beyond imagination.
The elevator ride to the top is an extraordinary experience that truly makes guests feel like they're moving up through the clouds to floor 52. Within the elevator, 14" x 15" TSI Samsung screens encircle the interior, accompanied by a 2.1 sound system that immerses visitors in a captivating ascending and descending video. Once they reach floor 52, guests will find Virtual Viewers offering an augmented landscape spanning 360 degrees, enabling them to explore Boston through a dynamic interface adorned with animations and illustrations. As easy as scanning the ticket barcode, every guest can create their ViewPrint digital itinerary throughout their visit, which serves a microsite directly to their phones.
Moving down to the 51st floor Cloud Terrace, the Big Picture Selfie experience captures live photos of guests up close, only to zoom out and simulate a view from thousands of feet away, ensuring an unforgettable memory. On floor 50, Boston 365 showcases a spectacular 50-foot wide projection mapped 3D model of the city, brought to life by 32 Christie 2020 projectors and the Christie Mystique system, guaranteeing flawless visuals. To delve deeper into the city, guests can explore Boston's neighborhoods, attractions, and restaurants on fourteen LED touch screens along the wall of the Explore Boston exhibit, while conveniently saving their findings to their custom ViewPrint itinerary. Lastly, the Open Doors 270-degree immersive theater offers a truly captivating screen, boasting five projectors and a 6.2 sound system that showcases a compelling short-film in 18k resolution.
"As the innovative and digital landscape continues to shape our world, View Boston embraces cutting-edge technology to offer an unparalleled sensory experience," says Bryan Koop, Executive Vice President for BXP's Boston Region. "Our commitment to integrating tech elements seamlessly into View Boston not only enhances visitors' perspectives of the awe-inspiring skyline but also captures the essence of Boston's progressive spirit."
Each of the companies listed below played a vital role in crafting this extraordinary experience:
"We were fortunate to have collaborated with these extremely talented teams to make the technology in the space come to life," says Justin Rink, General Manager of View Boston. "We strive to provide our guests with more than just a spectacular view, but rather an immersive experience to coincide with it."
View Boston is open daily along with the Stratus cocktail lounge and The Beacon bistro. Guests can purchase tickets and make dining reservations online. For additional information, group pricing, and special event inquiries please visit www.viewboston.com/.
About View Boston
View Boston is the city's preeminent observatory experience offering unrivaled 360-degree views of Boston's breathtaking city skyline. Encompassing the top three floors of Boston's iconic Prudential Tower, the 59,000-square-foot destination features indoor and outdoor panoramic views of the city, an open air roof deck, two dining destinations, state-of-the-art immersive experiential exhibits, and more. Whether discovering famed landmarks and coveted hidden gems or meeting friends for a sunset cocktail, your unforgettable Bostonian experience begins here. For more information, please visit viewboston.com or follow us on Instagram.