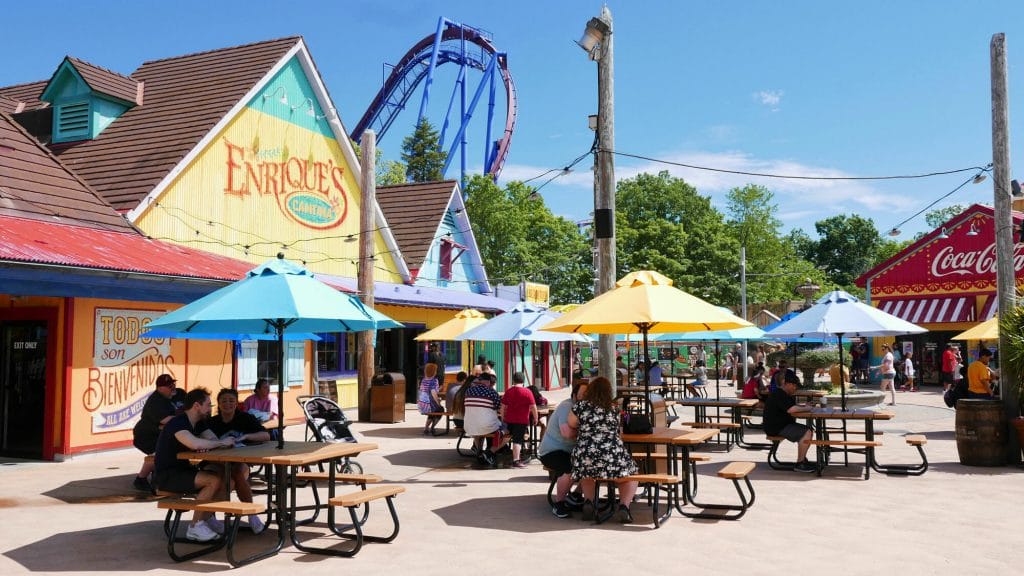 Kings Island Opens New "Adventure Port" Area
MASON, OH – Kings Island is pleased to announce the opening of Adventure Port, its newest themed area. Two new rides anchor the area, Sol Spin and Cargo Loco, while the Adventure Express roller coaster provides new theming enhancements and experiences for park guests. Enrique's restaurant and the Mercado Patio Bar deliver an adventure-themed culinary stop for travelers looking to satisfy their appetites and quench their thirsts.
"Over the past several months I've been truly amazed to see how this area of the park has been transformed into telling an immersive story of adventure and exploration," said Mike Koontz, Kings Island vice president and general manager. "The rides we've added are a perfect complement to the park's offerings, and we took advantage of the new area to continue to showcase the quality of our food and beverage offering."
Adventure Port's Backstory
The myths of an ancient civilization, and its mighty city carved out of stone, have lured travelers from around the globe to this bustling port community for more than a century. Resting in the foothills of overgrown mountains and dense tropical terrain, Adventure Port is a hub for explorers searching for the lost city's forbidden temple, fabled riches and mysterious wonders. If asked, the locals will tell tales of those who came before you and vanished. Did they unwittingly disturb ancient spirits and fall victim to an age-old curse?
Adventure Port Rides
Sol Spin: This immense golden sun disk may hold the secrets of the lost city. Riders board open-air, suspended passenger vehicles and experience the sensation of flying 60 feet through the air at 25 m.p.h.
Cargo Loco: Their methods might be a little dizzying, but the Arrow Cargo Company will get your gear from Point A to Point B….eventually. Riders board these shipping barrels where they can manually control the speed of their spin with a wheel in the middle of the barrel.
Adventure Express: Riders will embark on a surprise treasure-hunting mine train expedition in search of a Forbidden Temple. This family coaster opened in 1991 and features a 63-foot first drop with speeds up to 35 m.p.h. The queue line has been relocated and riders will find additional theming in the load station and throughout the ride.
JRA, part of RWS Global, Leads Design
Adventure Port's design was led by JRA, part of RWS Global with headquarters in Cincinnati, Ohio. Other contractors on the project include RSL Commercial Architects, Schaefer Engineers, Abercrombie and Associates, SHP Architects, R. E. Middleton and Kingdom Productions.
About JRA
Founded in 1987, and now part of RWS Global, JRA is an internationally recognized, award-winning team of next-level creators who transform imaginary worlds into real live moments for the ultimate guest experience. JRA's team prides itself on designing vividly but responsibly, creating destinations that are not only beautiful and memorable, but also operationally successful. That is why JRA is a trusted creative force that brings to life attractions, exhibits and other immersive environments, captivating visitors on land and at sea. Services include master planning, writing & content development, experience planning & design, executive media production, graphic design, art direction and project management & fabrication.
For over 35 years, JRA has been creating extraordinary destinations for an impressive roster of clients and brands including Cedar Fair, Children's Museum of Atlanta, Cincinnati's Black Music Walk of Fame, The Coca-Cola Company, Ferrari World Abu Dhabi, Google, Hasbro, LEGOLAND, Lionsgate, MSC Cruises, National Comedy Center, NBC Universal, Science Centre Singapore, Sony, The FRIENDS™ Experience by Original X Productions, Tencent, Toyota, Universal Studios Florida, View Boston and more. To learn more, visit experiencejra.com.
On land and at sea, RWS Global, with its subsidiaries RWS, ted, JRA and ARC, provides ideation, design, technical, casting and operation services to create extraordinary entertainment, live events, exhibits, destinations, décor and brand attractions. As the world's largest full-service provider of attractions and experiences, RWS Global delivers more than a million live moments daily and provides more than 8,000 career opportunities each year.