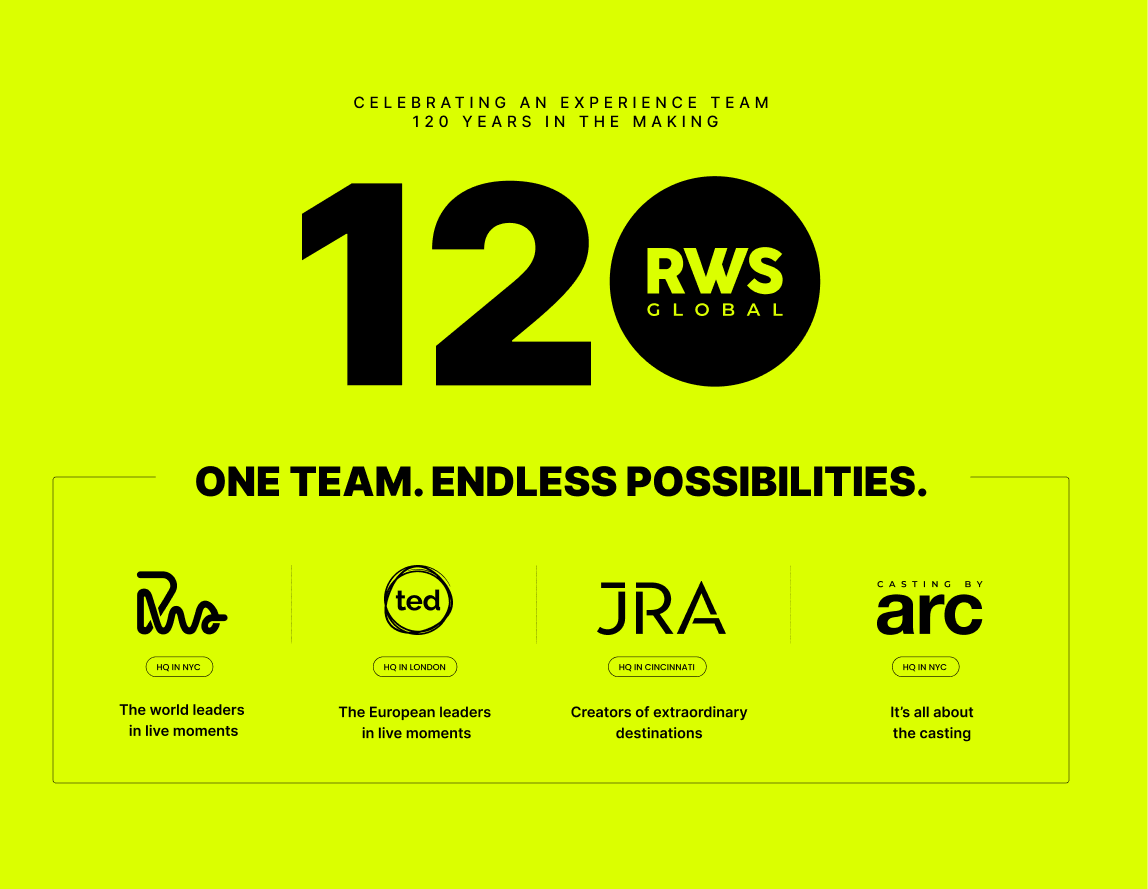 May 16th, 2023
Project produced by
RWS Global
RWS Global Launches as One Powerhouse Team Creating Unmatched Live Moments Across the Globe
Four industry-leading entertainment companies, with a collective 120 years of experience, unite to deliver world-class guest experiences on land and at sea
New York, New York – May 16, 2023 — Global entertainment leader RWS Entertainment Group announced today it is relaunching as RWS Global, comprised of its subsidiaries RWS, ted, JRA and ARC. Celebrating 120 years of combined experience, this unifying brand reflects the breadth of the company's capacity to deliver best-of-the-best talent, visionary creative and decades of know-how as the go-to partner for making every live experience exceptional. The collective creativity and in-house expertise will drive elevated client and guest experiences around the world for parks and resorts, cruise lines, destinations and global brands.
"We are beyond excited to marry the superior talents and capabilities of RWS, ted, JRA and ARC under the umbrella of RWS Global," said Ryan Stana, Founder & CEO of RWS Global. "This new creative synergy and talent pool will shatter expectations of what live experiences could and should be, reinvigorating in-person moments for both guests and brands. Four companies have become one team with endless possibilities that reach over 50 countries in six continents, creating millions of smiles each day."
As the 'one stop — and then some — shop,' RWS Global delivers unmatched capabilities from ideation to operation, resulting in enhanced client experiences, improved visitor satisfaction and more unique surprise-and-delight moments for guests. The RWS Global team, consisting of the Creative, Administration, Talent Casting & Recruitment and Marketing & Business Development departments, will support all four subsidiaries, creating structural efficiencies and ensuring a consistent level of excellence across the brands.
Capabilities include:
RWS: Headquartered in New York City, RWS is the go-to partner for some of the largest parks, resorts, cruise lines, destinations and brands in the world. RWS offers everything needed to develop ideas, bring them to life and run them flawlessly. Services include concept and design, show production, seasonal experiences, talent recruitment, costume design and build, leased experiences and guest acts.
ted: London-based ted is the European leader in live moments, delivering 360-degree experience design and implementation for iconic parks and resorts, cruise lines, destinations and brands. ted's capabilities include AV and technical, custom character development, music and media, fitness and wellbeing and retail and merchandising. With operations in 50 countries, decades of collective expertise and a top-tier team of creators, ted delivers exceptional experiences around the world.
JRA: As creators of extraordinary destinations, JRA, headquartered in Cincinnati, Ohio, USA, develops attractions that transport guests out of their daily lives. An immersive exhibit, a thrilling adventure, a storytelling world—anything one can dream up, JRA team members can design and build. Services include master planning, writing and content development, experience planning and design, executive media production, graphic design, art direction and project management and fabrication.
ARC: Connecting directors and producers to a deep, diverse talent pool for theatrical and commercial projects, ARC is casting for the 21st century. ARC goes beyond known names to discover fresh talent with a commitment to fostering an inclusive casting environment. ARC repeatedly delivers on the biggest ambitions with its unrelenting enthusiasm and exacting artistic standards. Services include casting for national, international, touring and Broadway theatrical productions, as well as television, film and commercials.
"Each company under the RWS Global umbrella will turn big and small moments into powerful memories by leveraging their individual expertise," said Craig Laurie, Chief Creative Officer of RWS Global. "We are committed to raising the bar by elevating experiences from concept to completion as one powerhouse team."
To learn more, visit rwsglobal.com.
About RWS Global
Built upon more than 120 years of combined expertise from its subsidiaries, RWS Global launched in 2023 as an industry-leading team of four powerhouse companies—RWS, ted, JRA and ARC. Together, they form the world's largest producer of live experiences. Headquartered in New York City, London and Cincinnati, RWS Global provides ideation, design, technical, casting and operation services to create extraordinary entertainment, live events, exhibits, destinations, décor and brand attractions.
On land, at sea and everywhere in between, RWS Global produces over one million live moments every day. RWS Global employs a diverse team of world-class designers, creators, producers and more, including the casting and recruitment of over 8,000 performers and technicians annually. RWS Studios, located in New York City and London, comprises over 100,000 combined square feet of creative and meeting spaces, a costume shop, rehearsal studios, performer housing, fully equipped casting studios, acoustically treated music rooms and more.
RWS Global's subsidiaries include RWS, the leader in live moments by bringing to life unforgettable in-person experiences; ted, Europe's largest leisure entertainment experience company; JRA, an award-winning creative studio specializing in master planning, design and project management and ARC, providing casting for theatre, film, TV and commercials. Together, RWS Global's companies have served an impressive roster of clients that includes Apple, Azamara, The Coca-Cola Company, Crayola, Europa-Park Resort, Ferrari World Abu Dhabi, The FRIENDS™ Experience by Original X Productions, Hard Rock Resorts, Hershey Entertainment & Resorts, Holland America Line, Iberostar Hotels & Resorts, Lionsgate, Marella Cruises, MSC Cruises, Roompot, Six Flags, Space Center Houston, TUI Group, Vera Wang, Warner Bros., Disney's The Lion King on Broadway, Chicago the Musical, Christmas Spectacular Starring the Radio City Rockettes and many more. For more information, visit rwsglobal.com.